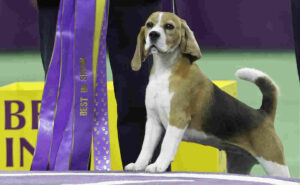 The 2015 Westminster Dog Show was two days of fantastic top dogs and performance! "Ch Tashtins Lookin For Trouble" a.k.a. "Miss P," a Beagle, won Best in Show at the 139th annual Westminster Kennel Club Dog Show. She beat out 192 breeds and nearly 3,000 competitors. Dogs from 15 countries and 48 U.S. states (excluding North Dakota and Idaho), competed for the prestigious title.
Dogsized was there to cover the show and we think all the dogs, owners, stylists and handlers were all winners! We took over 4,000 photos!!! So we've decided to showcase them, along with other dog photos, over the year as "Dog of the Day". Join in on the fun and submit a photo of your dog to be "Dog of the Day"!
Check out some of our favorite photos from the 2015 Westminster Dog Show:
[new_royalslider id="4″]
We're also looking for great captions so let us know if you have any fun ideas!
The WKC Dog Show is considered to be the second-longest continuously running sporting event in the U.S., behind only the Kentucky Derby.
This year featured two new breeds, the Coton de Tulear and the Wirehaired Vizsla. The Coton de Tulear, aka the "Royal Dog of Madagascar", is a hardy, sturdy small white companion dog. The Coton de Tulear is characterized by a natural long, white, cotton-like coat, rounded lively dark eyes, smile and witty personality. The Wirehaired Vizsla is a distinguished, versatile hunting dog of medium size, bred for substance and a dense wire amber-haired coat. Balanced in size and proportion, the Wirehaired Vizsla is robust and lean. They are considered to be excellent hunters, gentle and easily trained.
Check out last year's amazing 2014 Westminster Dog Show photos.