Dog water rehabilitation is an effective way of helping dogs recover from injuries and illnesses while improving strength and mobility.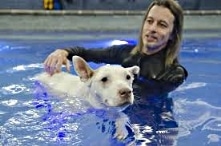 Hydrotherapy has been long used for humans suffering from arthritis pain and other disabilities. It's only become more available for dogs in recent years. Water rehabilitation for dogs allows them to exercise in a fluid environment which gives them greater support to minimize stress on their joints, while at the same time creating enough resistance so that they can exercise their muscles. It's considered a major breakthrough for dogs with spinal injuries, severe arthritis, hip or elbow dysplasia or other mobility problems.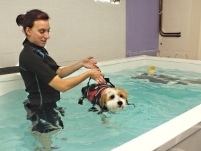 What makes hydrotherapy different is the buoyancy water provides. The feeling of weightlessness allows disabled dogs to use all their muscles without putting stress on damaged or weak muscles. But the water also creates resistance, which limits the rate at which the dog's limbs can move through the water. It's also a great cardiovascular workout for a dog's heart and lungs, since the weight of the water means that breathing requires more effort. The water in hydrotherapy pools is typically warm (80 to 100 degrees F), which promotes blood flow to the injured area while simultaneously increasing muscle and joint flexibility.
Friends of Dogsiz
ed and Downtown Dog NYC members, Geraldine, Conor and their dog Abe, had a great experience with hydrotherapy at Water4Dogs Rehabilitation Center in NYC. At the time, Abe (only a year and 9 months old) sadly had a partial tear in his back left leg (unfortunately a common injury for Abe's breed). After hearing from an orthopedic surgeon that he needed very invasive surgery, they sought out some other opinions. They thought surgery was a bit drastic, especially since he was so young. Another vet recommended water therapy and rehab at Water4Dogs.
They came in for an initial evaluation/consultation with Dr. Block at Water4Dogs and decided to try out their rehabilitation in lieu of surgery. After ten sessions of cold laser treatment, physical therapy, water treadmill and pool therapy (ten sessions in all, twice a week). Abe made an amazing recovery.
So if your dog has an injury or mobility issues, you might want to consider water rehabilitation / hydrotherapy, before going to more invasive surgical solutions. It's worked for humans for years – it makes sense that it could be a great option and potential solution for our canine best friends.
Check out these two videos of Abe at Water4Dogs: