Hypoallergenic dogs are great for allergy sufferers. Living in NYC, we see and know loads of hypoallergenic dogs and here's our recommendation for the Top 10 Hypoallergenic Dogs for the City:
10. Yorkshire Terrier (Yorkie)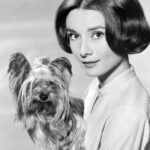 The Yorkshire Terrier has been one of the most popular dogs in NYC for years, so we had to put it on the list. Ziggy and G.M., both Yorkies, are also our friends. Yorkies are a small, intelligent and very adaptable for apartment living. Some of them can have a tendency to bark (i.e. yapper) and want to be the leader of the pack &/or need a lot of attention, but they are trainable. More info: Yorkshire Terrier wiki
9. Miniature Schnauzer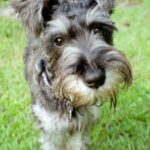 The typical Miniature Schnauzer is alert and spirited, yet obedient to command. He is friendly, intelligent and willing to please. He should never be overaggressive or timid. The Miniature Schnauzer is characterized by its whiskers and double coat, which has a hard, wiry outer coat and close, soft undercoat. He is the most popular of the three Schnauzer breeds, which include the Giant and the Standard. More info: Miniature Schnauzer wiki
5 Incredible Yorkie Grooming Tools ...
8. West Highland White Terrier (Westie)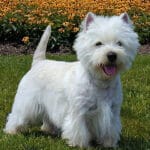 Westies are highly social and are the most friendly and jolly of all the Scottish breeds of terrier. Having a typical terrier prey drive, they tend to be highly interested in toys especially chasing balls. They are also inquisitive and investigative. Our friend Aron has two "sister" Westies. More info: West Highland White Terrier AKC
7. Norfolk Terrier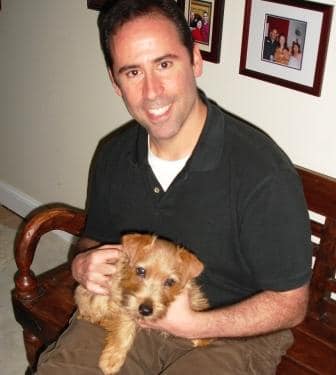 Maybe not so well known, but we could not leave the Norfolk Terrier off the list as Jake, our friend's Norfolk Terrier is one of the reasons we got a dog in the first place. The Norfolk Terrier is a smallest of the working terriers. It's brave, loyal to their masters, and has great charm. Jake lives in WDC and is loads of fun! Here's a puppy picture of Jake and his "dad" Scott. More info: Norfolk Terrier AKC
6. Soft-coated Wheaten Terrier (Wheaten)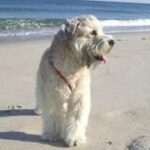 The Wheaten is a happy, steady dog and shows himself gaily with an air of self-confidence. He is alert and exhibits interest in his surroundings; exhibits less aggressiveness than is sometimes encouraged in other terriers. We have the sweetest Wheaten on our building named Sheamus. More info: Soft-coated Wheaten Terrier wiki
5. Shih-Tzu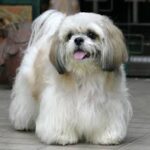 The Shih-Tzu is another very popular NYC dog. The Shih Tzu is bread to be a companion and house pet. Its temperament is outgoing, happy, affectionate, friendly and trusting. Due to its friendly nature, the Shih Tzu tends to interact well with other dogs and with children and adults. More info: Shih Tzu wiki
4. Maltese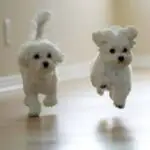 The Maltese is spirited, lively, playful and small. Gentle, loving, trusting and devoted to its master. Highly intelligent. Good at learning tricks. Bold and quick to sound the alarm. It is a classic companion dog: graceful and lovable. It does well with other non-canine animals and other dogs. Our friends Beth Ann and Al recently got the cutest Maltese named Cobie. More info: Maltese Dog wiki
3. Tibetan Terrier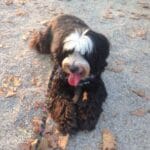 Kobi's girlfriend, Fiesta, is a Tibetan Terrier so clearly we love the Tibetan Terrier! Boots is another cute Tibetan Terrier in our building. They are both super friendly and our dog loves to play with them. The Tibetan Terrier is a brave, intelligent, dedicated, medium-sized dog. Sweet and loving, it's lively, mild and fun, with great agility as well as endurance. This breed's bark is deep like a rising siren. Here's a picture of Fiesta. More info: Tibetan Terrier AKC
2. Bichon Frise (Bichon)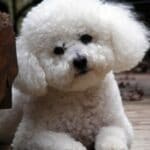 When we were looking for a dog, we almost went with a Bichon Frise. They are great dogs and our friend George from WDC has two of them. Here's his cute dog Casper. The Bichon is a fluffy, little white dog that loves human company. It's intelligent, affectionate, bold and lively. This charming, gentle dog is not a yapper. They are naturally sociable and are happiest when they are part of a family that takes them everywhere. They are great with other dogs, pets and children. More info: Bichon Frise wiki
1. Havanese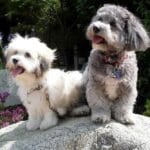 Of course we're totally biased because Kobi, our dog, is a Havanese! While our dog is white/cream, they do come in a variety of colors. Havanese are natural companion dogs, gentle and responsive. Very affectionate and playful with a high degree of intelligence, these cheerful dogs are very sociable and will get along with everyone including people, dogs, cats and other pets. This curious dog loves to observe what is going on. It has a quiet and gentle disposition, but enjoys loud play sessions. The Havanese has a reputation of being a circus dog, probably because it learns quickly. It's also the National Dog of Cuba. More info: Havanese AKC