Grain-free dog treats have become increasingly popular among pet owners in recent years as more people look for alternatives to traditional pet foods that contain grains like wheat, rice, and corn.
What Are Grain Free Dog Treats?
These treats are formulated without these ingredients, which can be hard for some dogs to digest, leading to digestive issues and even allergic reactions.
Grain-free dog treats typically use alternative sources of carbohydrates, such as sweet potatoes, peas, and chickpeas, to provide dogs with wholesome nutrients that support their health and well-being.
Whether you're concerned about your dog's digestion or simply want to provide them with a healthier treat option, grain-free dog treats can be an excellent choice.
Zuke's Grain Free Dog Treats
Back in the Summer of 1995, Patrick Meiering was on a on a hike in the Colorado Mountains with his best friend, a 2 year old chocolate lab named Zuke.
Once they reached the summit, Pat had an energy bar for himself, but nothing for Zuke, so he broke off a piece of his energy bar and tossed it to him.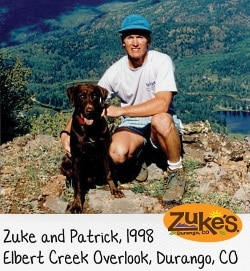 That's when Patrick got the inspiration to make natural treats for dogs. Patrick returned home full of inspiration and made the first Zuke's treat, an energy bar called PowerBones.
20 years later, Zuke's has a full line of treats for dogs (and cats). Their ingredients meet stringent U.S. quality standards and they do not source ingredients from China.
All products are manufactured in the U.S. and New Zealand. Zuke's also gives back – every purchase supports the Dog & Cat Cancer Fund.
Our dog has allergies, so we were happy to see that Zuke's has few lines of Grain Free treats. Best of all, we received 3 bags of treats from them and we decided to give them away for reader reviews!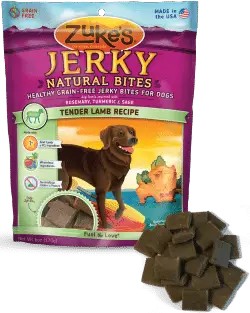 Meat is the 1st ingredient and it's grain free. These are soft bites. Comes in Lamb, Beef and Turkey recipes.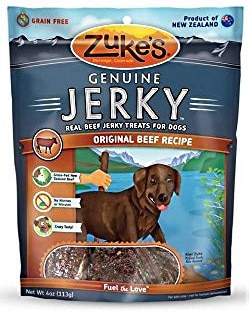 85% Grass-Fed New Zealand Beef. Real beef jerky treats. Meat is the 1st ingredient and it's grain free. Comes in Original, Barbecue and Teriyaki Beef recipes.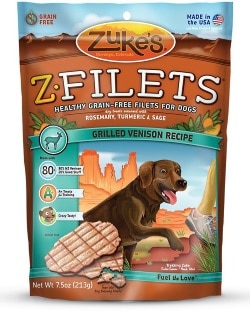 80% Venison and it's grain free. Also comes in Grilled Chicken and Beef recipes.
Three lucky Dogsized fans (Keshia, Surfer Dude and Foxy)
are currently taste testing these treats and we look forward to posting their review's soon!