As pet owners, we all want to ensure our furry companions are happy and healthy. A major part of their well-being is diet, so it's important to ensure that our canine friends get the right nutrients.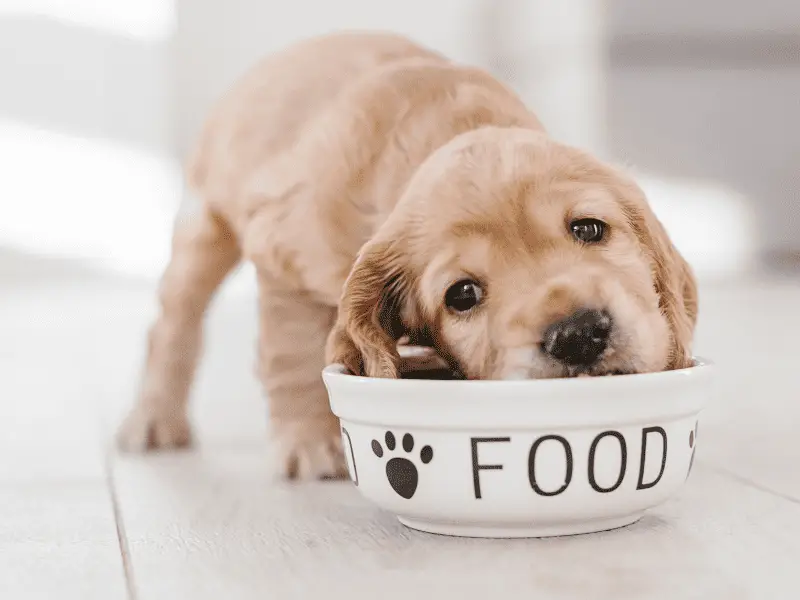 Homemade meals can be an excellent way to ensure a healthy diet for our pets, and with a little bit of effort, it's possible to provide our dogs with homemade meals that are both nutritious and delicious.
Understanding Nutritional Requirements
The first step in creating homemade meals for dogs is understanding their nutritional requirements.
Dogs require a balanced diet that includes protein, carbohydrates, and fats, as well as vitamins and minerals.
The exact ratio of these nutrients varies depending on the dog's size, age, and activity level. It's important to consult with a veterinarian or a qualified animal nutritionist to determine the specific dietary needs of your dog.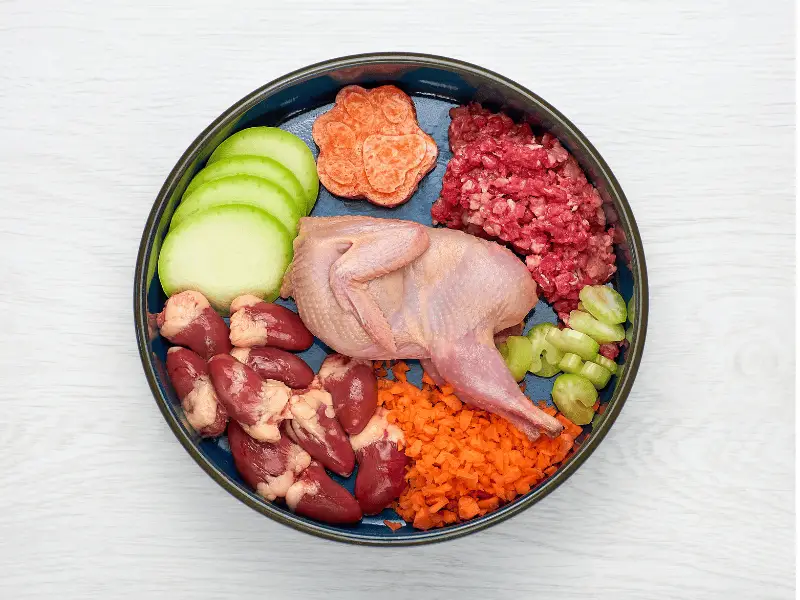 Quality Ingredients
When it comes to ingredients, quality is key. It's important to choose high-quality, fresh ingredients that are free from preservatives, additives, and artificial coloring.
Lean meats such as chicken, turkey, and fish are excellent sources of protein, while vegetables such as sweet potatoes, carrots, and green beans are great sources of vitamins and fiber.
It's also important to avoid ingredients that are toxic to dogs, such as onions, garlic, and chocolate.
Meal Prep Tips
Meal prep can be done in batches, making it an efficient way to provide your pup with homemade meals. Here are some tips for meal prep:
Cook in bulk: Cook large portions and freeze them in single-serving portions. This way, you can defrost a meal as needed.
Plan ahead: Write down the recipes and portion sizes in advance to ensure consistency.
Invest in quality food storage containers: Use BPA-free containers to store the meals in the freezer. Mason jars also work well.
Label and date: Label each container with the date and contents.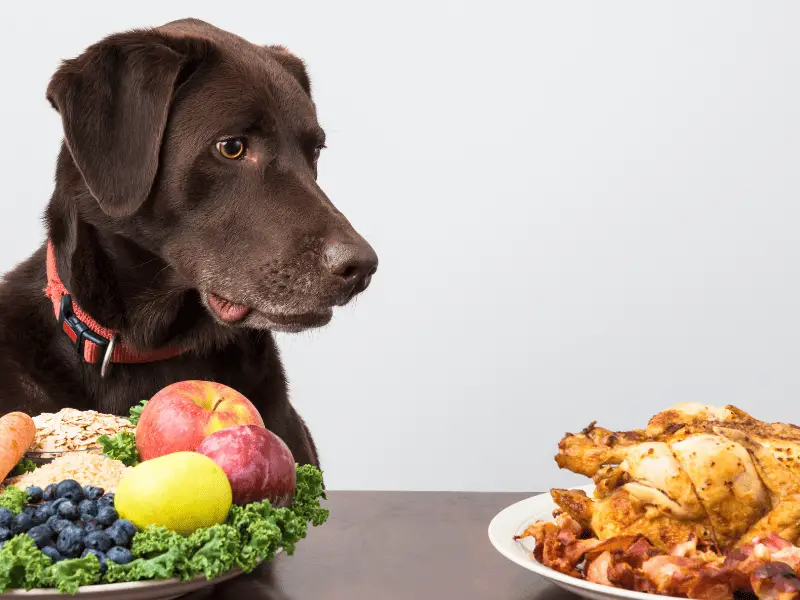 Recipe Ideas
Here are some simple recipe ideas to get you started:
Chicken and Sweet Potato
Ingrédients :
1 lb. boneless, skinless chicken breast
1 sweet potato
1/2 cup green beans
1/2 cup carrots
Instructions :
Preheat oven to 375°F.
Chop the sweet potato and carrots.
Spread chicken, sweet potatoes, green beans, and carrots on a baking sheet.
Bake for 30-40 minutes until everything is cooked through.
Let cool and serve.
Fish and Brown Rice
Ingrédients :
1 lb. white fish
1 cup brown rice
1/2 cup green peas
1/2 cup carrots
Instructions :
Cook rice according to package instructions.
Steam fish, green peas, and carrots.
Mix all ingredients together and let cool.
Serve.
Why freshness matter in home cooked meals for dogs
Homemade meals for dogs can be a great way to ensure they are getting the right balance of nutrients.
Fresh, high-quality ingredients and careful meal prep make it possible to provide healthy and delicious meals for your furry friend.
With some time and effort, you can create homemade meals that are tailored to your dog's specific dietary needs.
However, always consult with a veterinarian or qualified animal nutritionist to ensure they suit your dog's needs.
Not exactly home cooked meals for dogs
A friend of ours recently introduced us to a new type of dog food called Lucky Dog Cuisine.
This was several years ago so we haven't tried this product since and we are not endorsing the brand.
However, what struck us about this being so different is that all of their meals are made in real kitchens, not processing plants.
They use pots and pans and bowls just like you would to cook your own dinner – except of course their bowls are likely a lot larger. Lucky Dog Cuisine is cooked fresh in small batches, then frozen preservative-free for delivery right to your door.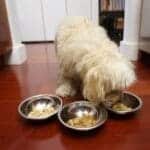 Now there are quite a few companies that state that their food is all-natural, all-American, human-grade cooked meals. But Lucky Dog Cuisine takes it a bit further in that there are no ingredients in their food that you cannot pronounce or have to look up in a chemistry text.
They believe that if you cannot pronounce something, you probably should not be eating it. They do not use any preservatives.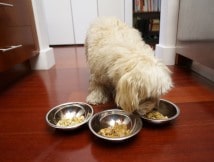 We did a taste test to see how our dog Kobi would like it. Kobi is a really picky eater and definitely doesn't eat if he doesn't like it.
He actually turns down about 70% of all doggie treats offered to him, which can be embarrassing. We were given a bag of Bugsy's Best Beef and Barley and Tail-Waggin' Turkey N' Rice to test out.
On several different days, I ran the test, which consisted of using 3 identical bowls, 3 different foods with one being the Lucky Dog Cuisine and the others were brands he already eats at home.
I would also change the order of the bowls. Kobi would give each bowl a sniff and to my surprise, he always ate the Lucky Dog Cuisine first. I was also able to actually see that it is real food, i.e. real cheese, blueberries, barley, ground meat.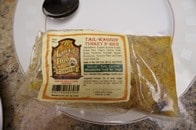 Here are the ingredients of the Lucky Dog Cuisine food we tested:
Bugsy's Best Beef and Barley
Grass-fed ground beef, barley, cottage cheese, beef heart, peas, carrots, beans, tomatoes, apples, blueberries, flaxseed meal, extra virgin olive oil, and basil.
Tail-Waggin' Turkey N' Rice
Organic ground turkey, yogurt, carrots, peas, beans, tomatoes, pumpkin, apples, blueberries, flaxseed meal and extra virgin olive oil.
When testing dog food there's the "does it go in" test (which it clearly passed) and "how it goes out" test – we're very happy that the "going out" test passed with top marks. He even appeared to poop less.
Then I saw on the Lucky Dog Cuisine website that "less poop" is one of the benefits. Honestly, I have no idea why, but in my dog's case, it was true.
Results: Lucky Dog Cuisine passed Kobi's test and was Dogsized approved.
Les aliments Lucky Dog ont été créés par le Dr Janice Elenbaas, qui a suivi une formation de quatre ans en nutrition et a acquis vingt ans d'expérience en tant que docteur en chiropraxie pour les humains et les animaux. Nous avons également eu l'occasion de poser quelques questions au Dr Janice Elenbaas :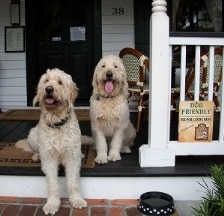 It sounds like you've always been cooking dog food for your dogs.
When did you decide to create your cooking into a business? How long ago was that?
I retired from the chiropractic business in 2002. My husband and I moved to South Carolina (from Canada) to finally get a chance to live in a warm climate!
I was buying freshly ground beef from my local butcher. He teased me one day and said he knew that it was just Jeff and I at home, what were we doing with all this ground beef?! I told him that I cooked for my dogs.
He thought it was a great idea and that if I could package it, he would sell it in his store. There were so many dogs here in the south with skin issues; he knew there would be a market for our product.
L'étape suivante consistait à trouver ce dont j'avais besoin pour le commercialiser. Après de nombreuses recherches, j'ai fait tester mes recettes (il y en avait deux à l'époque) par le département de l'agriculture de Caroline du Sud. Le représentant de l'AAFCO m'a aidée à démarrer et tout était prêt.
That was all back in 2009. It started with one pot in my kitchen, selling at the butcher shop, farmer's markets and neighbors.
We also had a friend who owned a restaurant with a wonderful outdoor patio. She sold our food to her customers who wanted to bring their dogs out to dinner.
From that exposure, people wanted to have these dog meals shipped to their homes when they got back from vacationing here in Hilton Head.
Our national business began. Our very first shipment was to a family in Washington, DC. By the way, they are still customers!
Now from one pot in our kitchen, we have a 2,500 square foot commercial kitchen and employ 5 people to help us cook and package.
Pourquoi s'embêter à créer une entreprise alors que vos chiens vous avaient pour eux tout seuls, vous et votre grande cuisine ?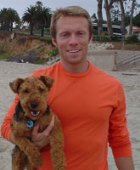 I had also cooked for my veterinarian's dog back in Toronto. I knew what was in most commercial dog foods and couldn't feed my dogs a highly processed kibble.
My vet couldn't believe how healthy and happy my dogs were and wanted the same diet for hers too. But it certainly was not a business at the time.
My philosophy has always been to eat wholesome, unprocessed foods.
After researching commercial foods and seeing that one in 2 dogs was diagnosed with cancer, I had lots of incentive to share my recipes and philosophy with other like-minded dog lovers.
The massive recalls of 2007 with resulting dog deaths brought attention to the issue of the quality of dog food. The stories broke my heart.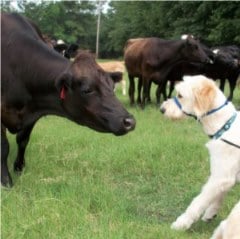 The wonderful emails I received from people saying how happy they were to have found our website, made me know we were on the right track.
People have told me that being on our food has extended their dogs' lives. I get teary every time I receive one of those emails. I enjoy contact with our clients and hope they feel listened to and part of something.
I consider it a great privilege to have the opportunity to feed a client's dog. I feel we are making an important contribution to the health and happiness of both dogs and their human companions. What we do is a labor of love.
Does any official agency test the food? e.g. USDA
Yes, we have our food tested by the South Carolina Dept of Agriculture, as well as, by independent labs. I test for heavy metals, as well as, nutritional value. I do not use a supplier unless I can receive a certificate of quality.
For example, all of our fruits and vegetables are non-gmo and we have a notarized statement from the company to that effect. Our fish is tested to be chemical-free and we use organic ingredients wherever possible.
---
Alternatives à la cuisine de Lucky Dog
Vous pouvez trouver sur Amazon
Raised Right Croquettes surgelées de qualité humaine pour chiens adultes
Des aliments sûrs et frais pour chiens utilisant des ingrédients qui ont satisfait aux mêmes normes que celles requises pour la consommation humaine.
Composé de 9 ingrédients simples, il est considéré comme un aliment pour chiens à faible teneur en glucides.
Régime complet et équilibré utilisant uniquement des aliments entiers sans vitamines ni minéraux ajoutés.
Chaque lot est soumis à un test de sécurité en laboratoire pour détecter les agents pathogènes.
Raised Right - Nourriture surgelée pour chiots de qualité humaine
Des aliments sûrs et frais pour chiens utilisant des ingrédients qui ont satisfait aux mêmes normes que celles requises pour la consommation humaine.
Peut être donné à la fois comme nourriture pour chiots de petite et de grande race.
Régime complet et équilibré utilisant uniquement des aliments entiers sans vitamines ni minéraux ajoutés.
Chaque lot est soumis à un test de sécurité en laboratoire pour détecter les agents pathogènes.