As a dog owner, you may need to find a dog walker if you want to ensure that your puppy or adult dog is getting enough exercise and outdoor time. Do you even know how to find a dog walker?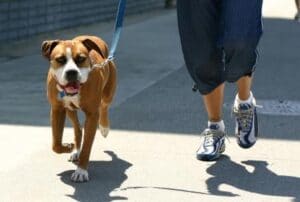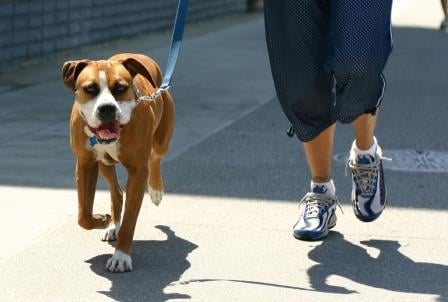 With busy schedules and other commitments, it's not always possible to give your pet the attention they need. That's where a dog walker comes in handy.
Finding a reliable dog walker can be a daunting task, but it's well worth the effort to give your pet the care they deserve. In this article, we'll explore some tips and tricks on how to find a dog walker that you can trust to keep your furry friend happy and healthy.
If you've recently moved to a new city with your dog or have a new dog, you probably need to find a dog walker.
It's always good to ask your neighbors for recommendations, but you probably want to do your own research as well. We recommend looking on Yelp and doing a Google search for your neighborhood.
Read the reviews – this will really give you some insight on potential dog walkers. Some businesses will only provide dog walking and others will have a retail/doggie daycare facility that also provides dog walking. Here's our list of tips to find a dog walker:
Questions to ask when you need to find a dog walker
Offrez-vous des promenades individuelles pour les chiens ?
Si vous proposez des promenades en groupe, combien de chiens promenez-vous en même temps ? Personnellement, nous ne recommandons pas plus de 3 chiens à la fois.
Lors des promenades en groupe, les grands et les petits chiens sont-ils séparés ?
Quel est le prix des promenades individuelles ou en groupe ?
Quels sont les différents prix en fonction de la durée, c'est-à-dire la pause de relève, la marche de 30 minutes, la marche de 60 minutes ?
Quelle est la distance à parcourir pour promener votre chien ? En fonction du niveau d'énergie de votre chien, il est important de le préciser. Nous avons un jeune chien et nous ne voulons pas que le promeneur se contente de faire le tour du pâté de maisons et de laisser notre chien renifler tout ce qu'il y a à voir - le chien a besoin d'exercice.
Avez-vous des références ? Quelle est leur expérience en matière de promenades, de dressage et/ou de manipulation de chiens ?
Sont-ils cautionnés et/ou ont-ils une assurance?
Ont-ils des procédures d'urgence ?
Demande-t-on les coordonnées de votre vétérinaire et un formulaire de décharge afin de pouvoir envoyer votre chien chez votre vétérinaire en cas d'urgence ?
Veillent-ils à ce que votre chien ait reçu tous les vaccins et injections nécessaires ?
Prendra-t-il des photos de votre chien ? Cela peut être intéressant car cela vous permet de voir ce que fait votre chien pendant la journée. Cependant, nous avons eu une mauvaise expérience à ce sujet : le promeneur de chiens a pris de nombreuses photos de notre chien et les a ensuite publiées sur son blog, accompagnées de divers commentaires personnels sur notre chien. Nous n'aurions pas été gênés par 2 ou 3 photos, mais ils ont clairement dépassé les limites professionnelles.
Autres éléments à prendre en compte dans le choix d'un promeneur de chiens
Prix - Comment s'intègre-t-il dans votre budget ?
Price – How much will a potential dog walker charge?
Is it in line with the average dog walking prices in your area?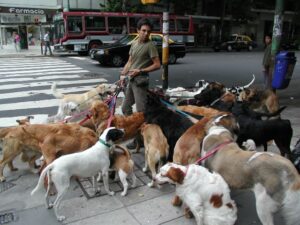 Si vous souhaitez que votre chien fasse une promenade en groupe, le promeneur de chiens fera-t-il entrer d'autres chiens dans votre immeuble/appartement ? Certains immeubles n'autorisent pas les chiens extérieurs (ceux des promeneurs de chiens) à entrer dans l'immeuble.
Assurez-vous que votre chien rencontre le promeneur potentiel. Le promeneur et votre chien doivent avoir un certain rapport.
Determine a pick up and drop off routine.
What time(s) will the dog walker walk your dog?
Will your dog be crated or free in the home?
Do you want thedog walker to give your dog food or water (this might be an extra charge)?
Do you want your dog's paws wiped off when they come back from the walk (this might bean extra charge)?
Does the dog walker require a key to your home or can you have your doorman (if applicable) keep the key and give it out/pick it up from the dog walker.

Our preference is to not give a key and have our doorman handle it. If you do give a key, remember to have a "do not duplicate" stamp on it.

Déterminez les modalités de paiement. Payez-vous à l'avance ? Pouvez-vous obtenir un rabais sur un forfait (par exemple, 10 promenades pour 15 % de moins) ? Pouvez-vous payer en ligne (par ex. Paypal) ou par carte de crédit ?
The relationship should preferably be written into a contract to clarify the terms and conditions.