The best dog bedding for your canine's comfort can be tricky. Finding a great dog bed is easier said than done. While there are a lot of Dog B E D options on the market, it's not easy to find great quality. Want to know what we mean by Dog B E D – keep reading!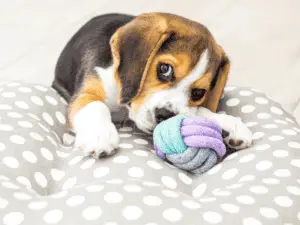 So we've done the homework for you to find you the best quality and stylish dog beds on the market. We've linked them for easy shopping.
What is the Dog B E D Test?
Our Dogsized Team has developed the Dog B E D test to help dog owners find the right dog beds for their canines. Don't worry; it's more of a set of three criteria than an actual test.
We've identified several important factors to consider before purchasing dog bedding. The three most critical factors to consider are beauty, ergonomics, and durability – Dog B E D:
Beauty: This factor refers to the aesthetic value of the dog bed. While a beautiful dog bed can be an attractive addition to your home décor, it is important to remember that the bed's primary function is to provide your dog with a comfortable and safe sleeping environment.

Poorly designed beautiful beds may not be comfortable for your pet, leading to a decline in their sleep quality and overall health.

Ergonomics: This factor refers to the bed's design and ability to cater to your dog's comfort needs. A good dog bed should have good ergonomic features tailored to each dog's preference.

One example of poor ergonomics would be a dog bed that is too small for the dog's size, which could result in poor blood circulation and body fatigue.

Durability: Long-lasting dog beds offer value for money, especially if they are designed to withstand frequent use and natural wear and tear.

Despite regular washing, a durable dog bed must keep up with your dog's playfulness without losing its shape or texture.
What are the pros and cons of Dog B E D?
To balance these three factors, dog owners can consider some pros and cons:
Beauty: Aesthetic dog beds can be visually appealing and complement the home decor if you select the right one. However, dog beds that prioritize beauty over comfort and ergonomics may not be ideal for a dog's health.

Ergonomics: Ergonomically-designed dog beds provide excellent support to critical areas like the spine, hips, and bones, promoting restful sleep and overall wellness. However, these beds may not always look stylish, and may be more expensive.

Durability: Durable dog beds offer excellent value for money, lasting for years despite frequent use. However, they may not always meet the other criteria we're considering, like low aesthetics or poor ergonomic design.
When selecting a dog bed, pet owners need to consider the individual needs of their dogs, including breed, age, size, and overall health status. A large dog with joint problems may benefit from an orthopedic bed, while a small and active dog may prefer a non-orthopedic bed with lots of cushioning.
In conclusion, the perfect dog bed depends on your dog's specific needs, and it is essential to consider the main factors mentioned here so that you make an informed decision that meets your pet's needs.
Looking for the best dog bedding?
Here are our top 4 best dog bedding brands (note these are not in any particular order):
1. Crypton Dog Beds
We love how very stylish and modern Crypton dog beds are! They're made not only for your dog, but also to be a beautiful accent piece in your home.

Best of all, they are built-to-last and unbelievably resistant to troublesome stains, moisture, odor and bacteria. The beds are made in the U.S. & fillers are produced from recycled bottles.

2. Jax and Bones Dog Beds
These sophisticated dog beds from Jax and Bones are fabulous! They use the most beautiful, sophisticated fabrics and are also very well constructed.

All bedding is made in the U.S., filled using eco-friendly fiber and machine washable! Best of all, their beds are for all dog sizes from small to large dogs up to 110lbs.

3. Orvis Dog Beds
Orvis makes some of the best dog bedding, handsome dog beds which have various features from Tempur-Pedic and Memory Foam to "ToughChew".

They have a Dog Bed Selector that helps you to pick out the right design, shape and fill material for your dog. You can also customize this dog b e d with your dog's name or have extra length for multiple dogs or for dogs who like to stretch out.

4. Enchanted Home Dog Beds
Are you looking for the best dog bedding that looks like an actual sofa? Then you must check out Enchanted Home's dog beds.

Made for the smaller sized dog, these beds have unique designs which make them look like "human furniture", but sized for dogs. They are well made and often have unique characteristics, such as hidden storage.
More Dog B E D Criteria
Sure, here are some potential criteria that could be used to evaluate dog bedding brands:
Comfort: A good dog bed brand should prioritize comfort and use high-quality materials in the construction of their beds.

Durability: Dog bedding should be able to hold up to regular use and not fall apart easily. Brands that offer durable and long-lasting products could be considered favorably.

Support: Some dogs require additional support due to their age or health condition. Brands that offer orthopedic beds or other products designed for extra support could be considered.

Size options: Dogs come in many shapes and sizes, so having a variety of options is important to ensure the right fit for each dog.

Washability: Dog bedding should be easy to clean since dogs can track in dirt and accidents happen. Brands that offer washable and easy-to-maintain options could be beneficial.

Style: Although not as important as the other criteria, some dog owners may want a bed that matches their home décor or fits their personal style. Brands that offer a range of style options could be considered positively.

These are just a few examples of brand criteria that could be evaluated when choosing the best dog bedding.
Dog Bedding Brand Round-Up
Here are some general points about each brand:
Crypton Dog Bed: Crypton is known for offering durable and easy-to-clean dog beds that are resistant to stains, moisture, and odor. They also offer a range of designs for different tastes, and some models come with chew-proof or water-resistant covers.

Orvis Dog Bed: Orvis is known for their quality dog beds that prioritize comfort and support, with options available for dogs of all sizes and needs. Their beds use high-quality materials and often include features such as waterproof liners, memory foam, and removable washable covers.

Enchanted Home Dog Bed: Enchanted Home offers stylish and luxurious dog beds that are designed to blend in seamlessly with home decor. These beds come in a variety of sizes and styles and often feature unique design touches such as nailhead trim or tufted cushions.

Jax and Bones Dog Beds: Jax and Bones is known for offering eco-friendly dog beds that use sustainable and natural materials such as organic cotton and bamboo. Their beds come in various shapes and sizes, and many models are designed for dogs who need extra support or comfort.

Ultimately, the dog bed brand choice depends on the dog's needs and its owner. It is important to consider factors such as comfort, durability, support, and size when selecting a dog b e d, as well as personal preferences and budget.
ALSO READ: