Playing with your furry friend is one of the best ways to bond with them and keep them active. Dogs enjoy chasing and fetching toys, and a Frisbee is one of the best toys to achieve this.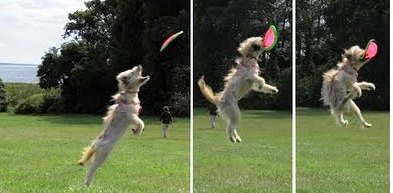 A good dog Frisbee should be durable, lightweight, and easy to grip. There are many options available in the market, but here is a Frisbee that your dog will love.
Soft bite floppy disc dog frisbee in action!
The Soft Bite Floppy Disc dog frisbee
is by far one of the most fun toys we got for our dog. It comes in different sizes so you can get the right size for your dog. Here's why we love it:
It's light, flexible, and perfect for traveling.

It's durable and ideal for playing fetch.

It floats! Yep – perfect for the pool. Dries out quickly.

We've used it as a quick water bowl. If you're on a walk outside and need to give your dog a quick drink of water it comes in handy.

Our dog loves it!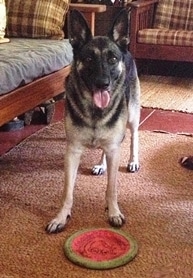 Last summer, our dogsized fan, Lucky, was looking for some tough dog toys and we recommended the Soft Bite Floppy. It ended up being her favorite toy of the bunch!
She's tough on dog toys and the Soft Bite Floppy passed the test. Here's an updated photo of Lucky with her favorite new toy, the Soft Bite Floppy dog frisbee!
The Chuckit! Ultra Lightweight Dog Frisbee
Chuckit! is a well-known brand that specializes in creating high-quality dog toys that are durable and fun to play with.
Their Ultra Lightweight Dog Frisbee is a perfect toy for dogs who love to chase and fetch.
The Frisbee is made of durable nylon designed to last longer and withstand rough playtime. It's a perfect toy for outdoor playtime, whether it's in the park, backyard, or the beach.
The Chuckit! Ultra Lightweight Frisbee is a great option for dogs who are new to playing with Frisbees.
It's easy to grip, and its lightweight design makes it perfect for dogs of all sizes and ages. Its bright color makes it easy to spot during playtime and keeps your furry friend engaged and active for hours.
Dog Frisbee Round Up
In conclusion, playing with a Frisbee will not only help to keep your dog active and healthy but also help to strengthen your bond with them.
The Soft bite floppy disc dog frisbee and Chuckit! Ultra Lightweight Dog Frisbee are excellent toys to consider for your next playtime session. They are durable and lightweight design makes it perfect for dogs of all sizes and ages, and it will provide endless fun for your furry friend.
What's your dogs favorite toy? Let us know!