It's travel season and you're probably looking at taking a trip or trips with your fur family. While many dogs love to be free in the car, safety concerns make many of us pet parents put our dogs in a dog bag, crate or kennel (and then secure it with the seat belt) for car travel. Alas, there is another option – the dog car harness!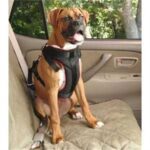 The Solvit Dog Car Harness is designed so your dog can wear a harness in the car just as safe and securely as you wear your seat belt. In fact, it actually does integrate with your car's seat belt tensioning device.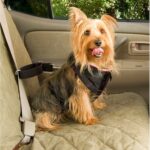 You can determine how much freedom of movement your dog should have while traveling and adjust the harness settings accordingly. Then in the case of a sudden stop, it locks in place to keep your dog secure.
We've used this with our dog Kobi and it worked out great. It was easy for him to get into and out of and we were happy to have this "seat belt" for our dog.
It took seconds to set up which we appreciated since we were in a rental car.
The Solvit Dog Car Harness, which is available in 4 sizes, has heavy-duty straps attached to a fully-padded vest, and full metal connectors are used at the load-bearing points.
The inner layer is breathable material, making the harness comfortable for your dog.
Not to mention, your dog is probably a whole lot more comfortable with the ability to move around the car a bit more than if he was stuck in a bag or crate.
I'm sure your best friend prefers to position himself at the best angle depending of what is of interest at the moment, e.g. looking at the others outside or looking at you inside the car.
It's designed to makes it easy to load and unload your pets and easily installs in all vehicles.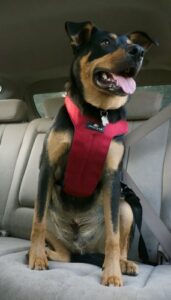 Another great product is the Clickit Utility from Sleepypod which has received great safety reviews. Clickit Utility is a three-point dog safety harness.
Similar in concept to the three-point seatbelt federally required in all vehicles, Clickit Utility's three points of attachment absorb force in a frontal collision by dissipating energy and keeping the dog in the car seat during impact.
Want more dog travel tips? Check out our Dog Travel section!
ALSO READ