Sweet dreams to your pooch with this on Cloud 7 dog bed. We're highlighting one of the most fashionable dog brands on the market, the Cloud 7. Based in Berlin, they offer stylish, contemporary products and accessories for dogs and dog lovers.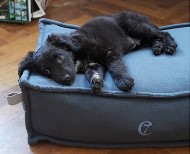 Founder Petra Jungebluth enjoyed a successful career in fashion design and marketing for iconic brands such as Tommy Hilfiger and Liz Claiborne before stepping out on her own.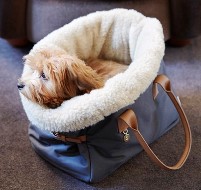 Petra started Cloud7 to develop all those products that she as a pet owner, had always wanted and couldn't find, i.e. unique products with playful designs made only from premium, eco-friendly quality.
Nous avons été ravis de discuter avec Petra de son entreprise et de ses créations :
The most interesting question about the inspiration for Cloud 7 Dog Bed!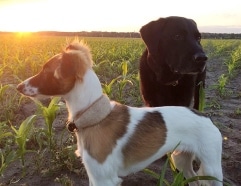 This is Johan, our 13 year old Black Lab. He's very much the muse and inspiration behind Cloud 7. No product is released without Johan's testing and approval. Johan now has a little brother, Freddy, a 4 month old Silken Windsprite.
Johan can be quite selfish and protective over his belongings (especially his food bowls and his toys), but much to our relief the Johan and Freddy are just getting along great and have become buddies.
What's the Cloud7 design concept?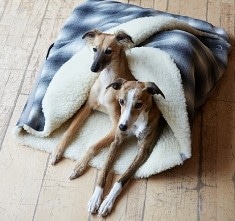 The initial idea behind Cloud 7 was to design products that simply look good and straight forward. No tacky details or ornamental pattern prints.
For example, dog beds are a pretty big piece of furniture in people's homes and I thought they should just match nicely to the rest of a sophisticated environment.
We wanted to only use chic and high quality, durable, organic fabrics/materials.
The dog beds also needed to be designed to meet the needs dog's needs and physics. It has that German design heritage – simple and functional shapes with the best possible quality inside.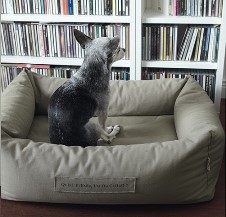 What are your most popular dog products?
It's quite funny, but our first design, the dog bed "Sleepy" is still our best seller. Second most popular is the "Travel Bed".
Nous sommes ravis que Cloud7 propose des housses de couette pour les lits de chiens. Fonctionnent-elles pour tous les lits ?
Actually we have replacement covers for all the dog beds we make. They're great for a nice change of color or to use when one has to go into the washing machine.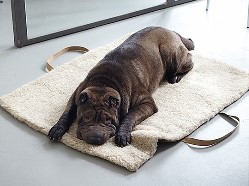 Are your dog products eco friendly?
Yes – where ever possible, we are working with the most eco-friendly and organic materials coming from organic farming.
In some rare cases, we need to do a little compromise to be able to offer affordable prices. Being able to offer purely organic materials in all consequences has its price.
Où sont fabriqués vos produits ?
We know the handshake of everyone involved. That's very important for us. We are working with small family owned businesses within reach, great people who know their handicraft. None of the people we work with is more than 100 miles away from our office.

Des lancements de nouveaux produits ?
Coming very soon. We're about to release a fully new design of a dog bed, made from felt, coming as a set of dog bed, storage box for toys and a placement for bowls all in one design.
We have also begun to work on a new collection of coats, very minimal and "Comme des Garcons" style.
Où nos fans de Dogsized peuvent-ils acheter vos produits ?
We're still very new on the American market. We have a few great retailers stock our brand: Mark & Graham in New York and Garde in Hollywood. They are also available for purchase at Cloud7.
LIRE AUSSI :