Yes, a dog crate can definitely be too big. When it comes to crate training, the size of the dog's crate is important because it directly affects your dog's behavior. Comfort and functionality are two of the most important aspects of choosing between dog crate sizes. This usually means making sure that a crate isn't too small – but what if it's too big?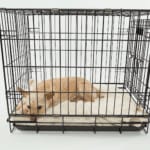 Size Matters: Why Choosing the Right Crate for Your Dog is Crucial for Their Well-Being and Your Sanity
A small dog crate may seem like the right fit in the early days when your dog is just a pup, but you may soon regret having short-term thinking. And on the other hand, a crate that is too big may seem tempting because your dog will have more space to move around, but it can actually cause more harm than good.
If the crate is too large, your dog may treat it more like a den or a playroom than a place to sleep. This can lead to accidents in the crate or even destructive behavior as the dog tries to entertain itself.
Additionally, if the crate is too big, it can make the dog feel unprotected as it moves around in the large empty space. Overall, it's always best to choose a crate that is just the right size for your dog.
While a crate that's too big for your dog will never make them cramped or give them sore muscles like one dog with a smaller crate might be guilty of, there are still cons that come with an excessively large crate.
LES PLUS BELLES TROUVAILLES DU CHIEN
Caisses pour chiens de toutes tailles
Tous les produits sont liés pour faciliter l'achat.
How to measure your dog for the right dog crate size
To measure your dog for the right dog crate size, you need to follow these steps:
Measure your dog's height: To measure your dog's height, make them stand on all fours and measure from the ground to the top of their head.
Measure your dog's length: To measure your dog's length, measure from the tip of its nose to its tail.
Measure your dog's width: To measure your dog's width, measure the widest part of its body, usually its chest or shoulders.
Add a few inches: Once you have your dog's measurements, add a few inches to each measurement to ensure that your dog has enough room to move around comfortably. For example, if your dog's height is 20 inches, add 2-4 inches to make it 22-24 inches.
Choose the right size crate: Using your dog's measurements, choose a crate that is big enough for them to stand, turn around, and lie down comfortably. The crate should not be too big or too small, as this may cause discomfort or anxiety for your dog.
By following these steps, you can ensure that you choose the right and correct size crate for your furry friend, making it a comfortable and safe place for them to relax in.
Dog Crate FAQs Dog Owners Want to Know
What type of dog needs a larger crate?
Larger dog breeds usually require a larger crate for them to feel comfortable and move around freely. Breeds such as Golden Retrievers, German Shepherds, Great Danes, and Saint Bernards are examples of dogs that require larger crates due to their size.
What is the largest crate size you can buy?
The largest crate size you can buy may vary depending on the manufacturer or brand, but commonly available sizes for large dogs range from 48 to 54 inches in length, 30 to 36 inches in width, and 33 to 40 inches in height.
It's always best to measure your dog's head first and compare them to the dimensions of the crate you plan on purchasing to ensure that it's the right size for your furry friend.
How Do I Crate Train A Dog With Potty Training ISSUES?
De nombreuses personnes utilisent des caisses pour faciliter l'apprentissage de la propreté, mais en choisir une trop grande peut entraîner des échecs et des contretemps frustrants.
If a crate is too big for a puppy (or even an adult dog), they may take advantage of the extra space and relieve themselves on one side while still having just enough room to relax and lie down on the other.
This is not the potty training practice you want to reinforce.
The best way to prevent this issue is to get a crate that's roomy enough for your dog to stand up, lie down, turn around, and stretch while still fitting for their size.
What should I do if I feel guilty about giving my dog crate time?
Dog crate training is a method of dog training that involves teaching your dog to love its crate. It can be beneficial for house and anxiety training and preventing destructive behavior.
How do I get my dog crate trained so that it loves its crate?
When crate training, choose a correctly sized crate, introduce your dog to it slowly, use positive reinforcement, verbal cues, and make the dog inside it comfortable.
The crate should be viewed by the dog as a positive space, so it is important to be patient and consistent with crate training.
Crate Training: Teaching Your Dog to Love Its Crate
Dog Crate training is a popular method of dog training that involves teaching your dog to love its crate.
Not only can crate training be beneficial for house training, preventing destructive behavior, and providing a safe haven for your dog, but it can also help reduce anxiety in certain dogs.
Here are some tips to help you crate train your dog and make it a positive experience for them:
Choose the Right Crate Size: Select a crate size that is the correct length, width, and height for your dog – not too small, but also not too big.

Your dog should be able to stand up, turn around and lie down comfortably. The crate should also have proper ventilation and be made of sturdy materials.

Introduce the Crate Slowly: Introduce the crate as a positive, comfortable space for your dog. Start by placing treats or toys inside the crate, and encourage your dog to go inside.

Gradually increase the amount of time they spend in the crate, and never force your dog into the crate.

Use Positive Reinforcement: Use positive reinforcement to encourage your dog to love its crate.

Reward them with a treat or toy every time they go into the crate, and slowly increase the amount of time they spend in the crate before giving them the reward.

Use Verbal Cues: Use a verbal cue, such as "crate" or "kennel," to signal to your dog that it's time to go into the crate.

This can help them associate the crate with a positive experience and make it easier to get them to go into the crate when you need them to.

Make it Comfortable: Ensure that the crate is a comfortable space for your dog. Add comfortable bedding and toys to the crate, and place the crate in a quiet, low-traffic area of your home.
Remember that crate training should always be a positive experience for your dog. With patience, consistency, and positive reinforcement, your dog can learn to love their crate and view it as a safe and comfortable space.
La perte de la qualité de l'habitat
Traditionnellement, les tanières de loups sont de petits espaces douillets dans lesquels les loups peuvent se détendre en toute sécurité. Aujourd'hui, de nombreux propriétaires d'animaux de compagnie essaient d'utiliser les caisses de façon similaire pour leurs chiens.
By laying down bedding and making a crate a desirable place to be, your dog can feel the security of having their own space.

If a crate is too big, the den-like quality may be lost and your dog (puppies especially) may feel uncomfortable, lonely, or anxious.
You should also be aware if your dog is cramped in a small dog crate. Either way, make sure you have the proper size crate that is the right size crate for your dog's size.
An extra note on making the crate a safe and happy "den" for your dog: it shouldn't be used as a form of punishment but rather something associated with treats, toys, and relaxation.
The Bottom Line About Your Dog's Crate Size
In general, it's better to use a crate that's too large as opposed to a size crate that's too small. Physical comfortability should be a bigger priority than preventing extra messes.
With that said, there are definite negatives that come along with using a crate that's too big. Not only will your dog be more likely to treat it as their bathroom, but they may feel more lonely or become anxious or stressed.
There are so many things to keep in mind when choosing the right crate for your dog, including: what you'll be using it for, which type works best for you, and of course, size. Take the time to research the different crates out there until you find one that's just right!
ALSO READ: What you should know about dog crate sizes