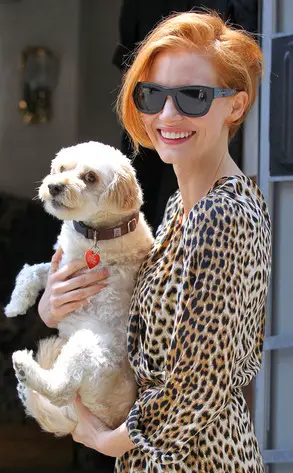 Yes – we're Fashion Police fans and tonight they aired a new segment "Your Pooch is Showing", where they show you a celebrity's dog and you have to guess the owner. As usual, Joan Rivers and crew were hilarious. First they showed Hugh Jackman and Dali which we already highlighted earlier this week.
Next was Jessica Chastain and her 3 legged dog, Chaplin. According to the New York Post in February, Chaplin unexpectedly walked onto the Broadway stage during a dramatic scene of "The Heiress" (starring Jessica Chastain). Knowing her dog would follow, Jessica left the stage and quickly returned to continue the scene. Such the professional, she didn't miss a beat. At the end of the matinee, Jessica Chastain took a final bow with her dog. Clearly Chaplin is trying to follow in his "mommy's" footprints and break into show business.
Elephant Shows Wild Dogs & the ...