The
Torus Dog Water Bowl
has a few new innovations over your standard water bowl.  The Torus (Latin for 'hollow circular ring') stores water inside the walls of the water bowl and holds up to 2 liters of water. We had Bailey, the boxer from our
Dogsized Product Tester Team
, try out the Torus.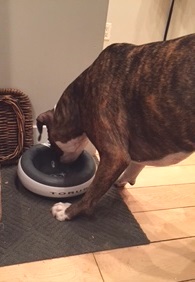 The bowl has knob which lifts off so you can insert the water filter before you add water. Water stored inside the walls ensures an ample supply of water, protected from dust and contaminants. The low profile also means no spills.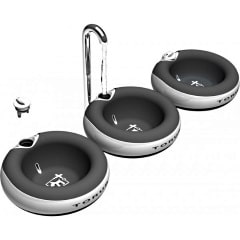 The knob can be set to 3 positions:
Tap:
First insert the water filter. Then you can use tap water to fill up the Torus with water (note water will not flow into the drinking well during filling).
Lock:
The Torus bowl is in the locked no-spill setting and can be carried to your dog's usual drink station at home or be loaded into your car for traveling without spillage.
Drinking:
To release water for drinking align the cap arrow with the dog symbol. Water will flow into the drinking well until the water outlet slot closes. As your dog drinks, water in the drinking well will be automatically replenished.
Torus Water Dog Bowl review from Bailey the Boxer and her parents:
We think the Torus
water dish has a creative design
to allow your dog to have fresh and filtered water, both at home and on the go. The design allows you to store your pups water within the walls of the water dish, and release it into the bowl when ready. This is quite convenient for
traveling and monitoring your dogs
water intake.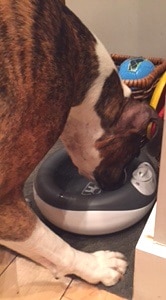 For a NYC dog, some of the downsides are that the Torus is large, bulky and quite heavy when filled. While traveling, it's certainly a nice feature to be able to store the water in the bowl, but we're not sure the convenience replaces the ease and versatility that a
collapsible rubber bowl
and bottle of water provide when traveling. If you live in the burbs and have a large car, this might be less of an issue.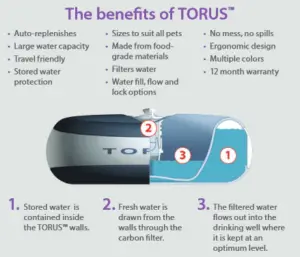 At home, the Torus is convenient and its bulk is less of an issue. We used the bowl to regulate the water intake of out 4yr old Boxer, who
drinks any amount of water in the bowl
, no matter now much or little. A turn of the knob allows you to refresh your pet's water supply, while keeping track of total water consumed through the day, or you can leave it open so fresh water continues to enter the drinking area when the water level drops. If you need to monitor or limit your
dogs water
intake, you can turn the knob to lock the automatic refill. Also remember that once
water goes from the storage area to the drinking
area, you cannot automatically put it back into the storage area. It's definitely a creative solution for the
dog owner that monitors their dog's water
intake.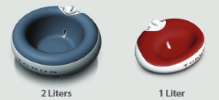 The Torus comes in a 1 and 2 liter size (note 1 liter not yet available in U.S. – coming soon), as well as a variety of colors.
ALSO READ: