Going on vacation and can't take your dog? Is your typical dog boarding place all booked? You should check out DogVacay. It's essentially the same business for dogs as Airbnb is for people.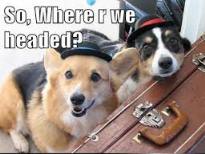 How Does DogVacay Work?
1. Find a Dog Sitter in Your Neighborhood
They have thousands of trusted and insured dog lovers in their network across the country and are ready to watch your dog like a member of their family.
Simply search your city and state and begin browsing through DogVacay Hosts in your area.
2. Schedule, Book & Pay Online
Rates start at /night and all reservations include FREE pet insurance, 24/7 customer support, and daily photo updates.
3. Bring Your Dog to your DogVacay Dog Sitter
Knowing your dog is being loved and cared for in a cage free environment while you're traveling can really put you at ease. The Vacay Dog Sitter will send you daily photo updates of your dog so you know they're happy. It's also great to know that  your dog is covered by the DogVacay Guarantee which includes free pet insurance, 24/7 Concierge Service and emergency support.
Can you meet the host before before you leave your dog with them?
While DogVacay provides Dog Sitter photos, verifications, reviews, and you can email the potential DogVacay Dog Sitter. It's possible to schedule a Meet-N-Greet. Choose a Dog Sitter that suits your needs and DogVacay will share with you the host's contact information and you can arrange an in-person meeting before your stay.
For full disclosure, we haven't used DogVacay ourselves, but it really does look like a great service option and they have quite a lot of news about them.