For the pet owner that loves to pamper their pooch, your dog can now get a blueberry dog facial! While this may sound like it's just a fad, we think it might be here to stay because there really are some great benefits, such as, treating tear stains, improving dry skin and brightening your dog's coat.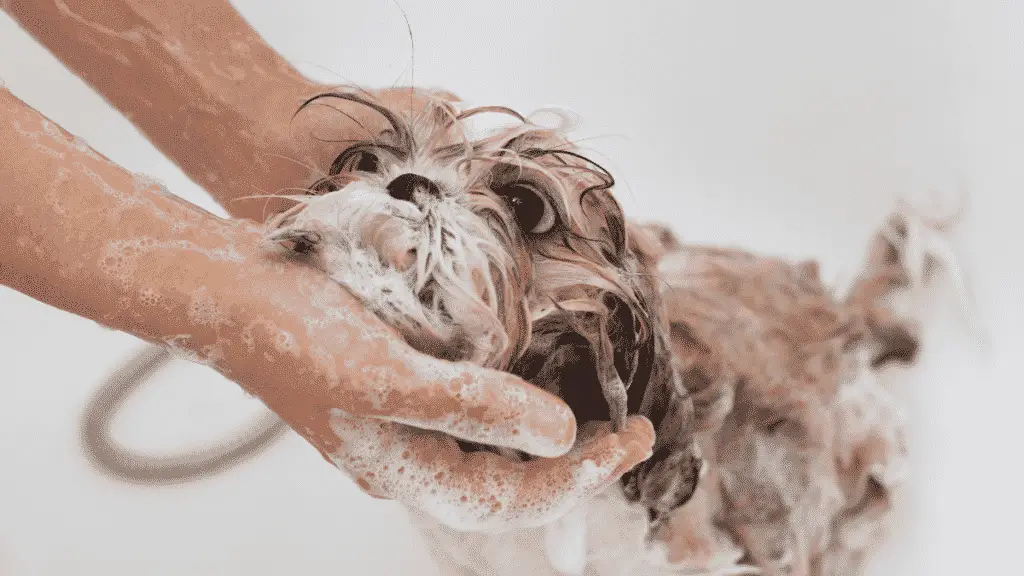 What is a Blueberry Dog Facial?
We've been hearing about these trendy blueberry dog facials and wanted to learn more. So we sat down with the Seaport Paw, where they offer blueberry facials to get the scoop:
We've heard that blueberry facials for dogs are all the rage. What's the difference between getting blueberry facials and just cleaning / shampooing your pet's face?
The difference between a blueberry facial and just cleaning or shampooing your dog's face is in the product itself. The blueberry facial not only cleans your dog's face but it has a natural exfoliating facial scrub activity and is slightly hydrating.
The blueberry facial is a true session that takes 15 minutes, where your dog is hand dried and the effects of the blueberry facial last for days.
Is Blueberry Dog Facial Really Dog Friendly?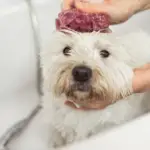 Dogs seem to love it! Not only is this product dog friendly but the dogs are happy, calm and loving life while enjoying their spa day and getting their blueberry facial dog wash.
If the product is used like a mask, how long does it need to stay on your dog's face?
The blueberry facial can be used similar to a mask and you could leave it on for five minutes, especially if you need to use circular movements to massage any folds or work on and rid any pesky tear stains.
If you have a dog with light colored hair, is there a chance the hair can be stained blue?
It will not cause any staining of a dog's fur or coat color.
If it's great for a dog's face, why not use it as an all over shampoo?
The blueberry facial is also a hypoallergenic, tearless and a lick-safe shampoo. It can be used as a whole body shampoo and color brightener, as a special request. White hair dog coats can look even brighter when we use this product as a shampoo.
Is There a Risk of Skin Irritation with This Type Of Facial?
The products used for this type of facial are specifically formulated for dogs. The shampoo contains no sulphates or harsh chemicals that other dog shampoos might have. In addition the product is pH balanced which means it won't irritate your dogs natural skin barrier.
Do You Have to Bring Your Dog to The Groomers To Get Blueberry Facials?
No, dogs can receive a diy blueberry facial at home to keep their skin healthy and clean! Washing your pet's face with a blueberry shampoo is just similar to cleaning your own face — no need to be a pro groomer.
The key is making sure that you select the best product to use at home and being extra careful around your pet's eyes, nose, and mouth areas to avoid any adverse reactions. Apply the product, use a rotating technique to work the product into your dog's fur, and just use warm water to carefully rinse. With just a few simple steps you've created a diy blueberry facial at home.
Here is our favorite Blueberry Facial Shampoo: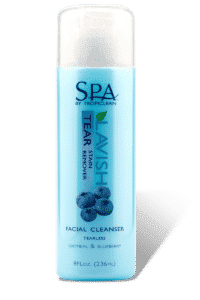 It's made with natural ingredients like oatmeal and blueberries that soothe your dog's skin, while leaving it soft and smelling sweet. The tear-free face wash gently foams to lift dirt away without irritating eyes, and exfoliates skin to remove tear and beard stains.
What are some benefits a Blueberry Dog Facial?
Dogs get to enjoy relaxation with all their senses stimulated. Some dogs even close their eyes during the session because they enjoy it so much! During that time dogs become calmer and gentler which makes brushing/combing sessions easier.
The blueberry facial stimulates the natural oil glands around the eye area so tear stains disappear, dogs have soft shiny fur and dogs look young again.
Dogs that have dry itchy skin due to allergies or other problems will benefit too, because dogs with certain conditions can actually experience pain when the coat is not shiny anymore. Dog owners find that their pup stop scratching and chewing on themselves after using blueberry shampoo.
If your pup has light-colored fur, blueberry shampoo helps brighten their hair even more!
Why blueberries for a blueberry facial for dogs?
The antioxidants in blueberries are beneficial for the skin and can help to improve the complexion of a dog's face. The vitamins in blueberries can also help to keep the skin healthy and promote the growth of new cells.
When combined with yogurt, which is also beneficial for the skin, a blueberry dog facial becomes a powerful tool in promoting healthy skin.
How can you create a diy blueberry facial for dogs?
You can steps can create a lick safe diy blueberry facial for your dog at home and avoid a bunch of pet supplies.
STEP 1
First, mix together some fresh blueberries and yogurt in a bowl. Then, apply the blueberry mixture to your dog's face and leave it on for about fifteen minutes.
For an added bonus mix in some natural coconut oil and aloe vera with the mashed fresh blueberries.
STEP 2
Rinse your dog's face with warm water and pat it dry.
If you do this routine once or twice a week, you should start to see an improvement in the complexion of your dog's face.
You do not need blueberry extract or anything artificial. It's all about the blueberries and just a couple of natural ingredients. Not only will dogs faces and fur look healthier, but they may also appear brighter.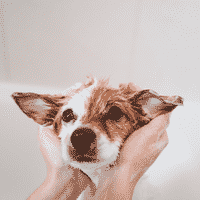 Quick steps for your diy blueberry facial
We recommend that you bring your dog to a bathtub to avoid mess!
Wet your pup's face and other areas you'd like to wash
Lather the recommended amount of product onto your hand and then apply it to wash your dog's face. Avoid their eyes, nose and mouth!
Gently massage your dog's face.
Rinse off the product with water.
Dry your pup with a clean, soft towel.
Is blueberry facial for dogs worth the money?
The point in giving your dog the blueberry facial is to make them feel like they are getting pampered. If your pup enjoys it and the process makes them relaxed and calm, then it is worth every penny!
If your dog is too stressed during bath time or during grooming sessions, this may not be for them. It is certainly easier, faster, and more efficient to just buy a blueberry dog facial blend, But if you feel inspired, you can instantly whip up a blueberry facial for dogs before and after a doggy bath. Here's a quick recipe:
Dog Blueberry Facial Recipe
Ingredients:
1 tablespoon of blueberry puree
1 teaspoon of honey
Instructions:
1. Combine the blueberry puree and honey in a small bowl.
2. Apply the mixture to your dog's face, avoiding the eyes.
3. Massage the mixture into your dog's skin for a few minutes.