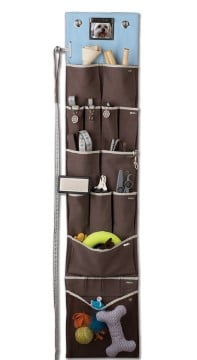 Do you ever wonder where your dog's stuff is?
Leash? Brush? Toys? Alas, a cool dog organizer for your best friend's stuff. We haven't actually seen many great organizers for your dog and we're happy to bring you this one. Imagine not having to search for all these items as they'll now be in one place.
Hang this dog organizer on your door or wall for easy access to various sized pockets that hold treats, collars, leashes, grooming tools, and a large net pocket big enough to hold all your pet's toys, even the big ones!
Other convenient features of this dog organizer include metal labeled badges on each row of pockets, an aluminum leash hook, grommets for your choice of hanging hardware and a personalized "my stuff" photo holder to place your pet's picture.
This comes in blue/brown as shown here, as well as, in a nice wine/canvas color.
Can't remember your dog's/dogs' medical details and vet appointments?
Now there are a number of apps on the market that can help you with that: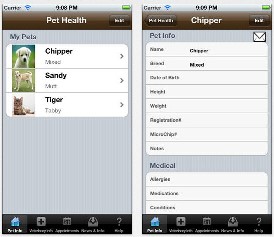 Pet Health (Medical Diary and Log)
This universal app allows you to create a profile for your pet(s) with all of its vital information, keep track of vet appointments and vaccinations, store your vet's contact information, adopt a pet, find a vet, find a lost pet, and more. You also get articles about pets and pet health right in the app.
Pet First Aid
Pet First Aid allows you to save vital medical information for all your pets. Easily record their vaccinations, identifications, veterinarian contact info, medications, allergies & conditions, and any other notes for reference when visiting the veterinarian.
It also has information for medical emergencies, from cuts and impalement, to choking and CPR. Pet First Aid is loaded with detailed videos and step-by-step illustrations. All articles, videos, and illustrations are bundled with the application for offline or wilderness access.