Product Description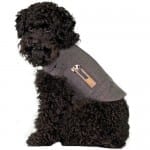 Thundershirt

The Thundershirt is a soft, breathable shirt that is recommended by veterinarians and trainers to reduce dog anxiety. It is specifically designed to safely apply a continuous, gentle pressure on your pet's torso that helps calm most dogs. ThunderShirt provides nearly instant calming by applying gentle constant pressure on the nervous system. No need for medication, simply wrap your dog up! 80% of dogs have shown significant improvement in anxiety symptoms with the ThunderShirt. Recommended by veterinarians and trainers.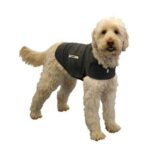 Thundershirt's patent pending design is a pressure wrap that applies a gentle, constant pressure on a dog's torso. It effectively aids anxiety, whether it be due to separation, during travel, or because of a fear of fireworks or thunderstorms. It is also great to help with crate training, leash pulling, hyperactivity and even problem barking.
Features:
Comes in a wide range of sizes to fit all dogs
Adjustable for a custom fit
Gentle pressure has dramatic calming effect
Over 80% of dogs show improvement
No need for medications
Great for dogs with anxiety, including thunder anxiety, barking problems, travel anxiety and other fear related anxieties.
Very useful in training
Comes in various sizes.
Instructions: