Description
Pet Carrier for Small Dogs by Kurgo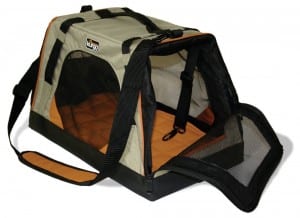 Kurgo's Wander Pet Carrier for small dogs takes the stress and worry out of travelling with your dog whether it's by air, car or bus. This is a functional and stylish pet carrier that will last for years to come.
This pet carrier for small dogs is airline approved and fits under most airplane seats. For car or bus travel it can be buckled into a seat belt. A large zippered opening makes it easier to get reluctant pets inside. A metal perimeter surrounds the zipper opening which helps to keep its shape and stop it from collapsing onto your pet and an interior tether provides a secure attachment for your dog's harness. The pet carrier for small dogs has mesh on three sides so your pet can keep an eye on what's going on. The mesh material aids air circulation keeping your pet cool and calm. The base features a reinforced padded liner which ensures the interior remains flat and comfortable for your pet, this can be removed and is machine washable.
The shape of the Kurgo pet carrier for small dogs has been well designed. The trapezium shape is able to utilize the most interior space possible, while it is being carried. Adjustable shoulder straps have been fitted with extra cushioning where it fits onto your shoulder. Alternatively you can remove the shoulder strap and just use the convenient carry handles. When it's not being used the pet carrier collapses down for easy storage.
The Kurgo Wander Pet Carrier is for small dogs or other pets with a maximum weight of 18 lbs. The khaki and orange color scheme is attractive whilst remaining neutral and it doesn't scream "pet carrier". Handy side pockets provide extra storage space for those must have treats. The dimensions of the Kurgo Wander Pet Carrier for small dogs are 17 x 11 x 11 inches (L x H x W).
For more dog bags and carriers, check out the Dogsized Dog Bags and Carriers category.