Description
The Peanut Medium Dog Bowl is designed for feeding and hydrating your small to medium sized dog. You'll love the simplistic character of this two side-by-side dog bowl and its easy to clean nature.
The Peanut Medium dog bowl is constructed of a single 3/8″ slab of BirchPly cut to its exact specifications using a CNC tool. The compressed hardwood is known for its appealing side cut, which is given full exposure. Comes in 4 colors: black, blue, orange, white.
The two stainless bowls are removable and dishwasher safe, sat on colorful acrylic. The exposed base features CNC-formed stainless steel legs.
Size: 13.5″x 8.5″ x 2.5″h
Stainless Steel bowl size 4.5″ diameter, holds 12 fl. oz.
Wipe acrylic top with water and a soft cloth for drying.
Colors: black matte, white gloss, blue or orange.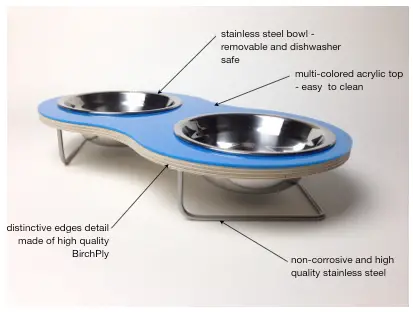 Shipping
Domestic Shipping: most items ship via USPS Priority Mail (insured) or comparable.