Description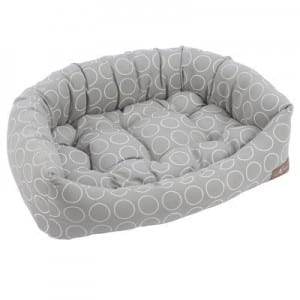 Jax and Bones Napper Dog Bed
The Jax and Bones Napper dog bed is made of heavy weight fabrics, which carry a texture that will create a super luxurious upholstery feeling bed. Soft and comfortable, it is the perfect spot for naps or bedtime. Because it is made with heavy weight fabrics, it is great for medium to high traffic use. Since it is durable and easy to clean, this bed will be a favorite for years to come.
Features:
Comes in various sizes, colors (blue, red, green, brown, grey) and designs
Great for dogs of all sizes
Heavy weight fabric
Fun, vibrant pattern
Soft and comfortable
Durable and easy to maintain
Made in the USA
Sizes:
Small: dogs up to 20lbs (24″L x 21″W x 7″H)
Medium: dogs up to 40lbs (35″L x 27″W x 9″H)
Large: dogs up to 70lbs (40″L x 32″W x 12″H)
XLarge: dogs up to 100lbs (50″L x 42″W x 15″H)
Care Instructions: Machine wash, low heat tumble dry.