Product Description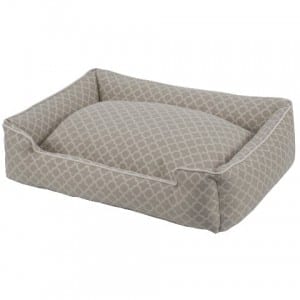 Luxury Lounge Dog Bed – Cotton Blend
A beautiful luxury lounge dog bed to provide snooze-worthy comfort and will compliment your home. Luckily, this beautiful fabric is also machine washable. Most of these fabrics carry a texture that will creare a uber luxurious upholstery feeling dog bed. Great for medium to high traffic use and homes that want a more unique design. Bolstered side and center pillow unzip for easy maintenance and is overstuffed with hypo-allergenic fiber. Machine washable, low heat tumble recommended.
Features:
Pattern: Vienna
Material: Cotton
Sophisticated and modern fabric
Heavy weight, luxurious fabric
Sustainafill allergy-free eco-friendly fiber filling
Removable and machine washable cover
Perfect for everyday use
Proudly made in the USA
Vienna collection
Dimensions:
-Small: 7″ H x 24″ W x 18″ D, 6 lbs.
-Medium: 10″ H x 32″ W x 27″ D, 10 lbs.
-Large: 10″ H x 39″ W x 32″ D, 14 lbs.
-Extra large: 12″ H x 48″ W x 40″ D, 18 lbs.