Description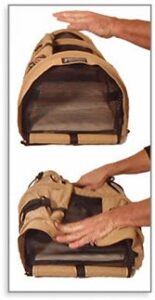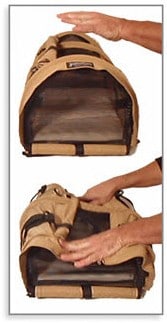 Used by professional trainers, breeders and animal lovers around the world, SturdiBag is a flexible height pet carrier for dogs. This innovative lightweight pet carrier features flexible rods that allow the carrier to flex down without collapsing to conform to all under seat heights. It provides an excellent travel solution for airline use. This carrier is airline-preferred for in-flight use by most domestic and international air travel carriers. Check with your airline to ensure that the size and specifications meet their requirements.
The SturdiBag includes a washable, removable SturdiPet Comfort Pad. The pad is covered with soft fleece and is filled with a cushy, convoluted or "egg-crate" style foam pad that provides air circulation and superior weight distribution for support, comfort and pressure relief. The SturdiPet Comfort Pad may be beneficial for aging pets and/or pets with arthritic or other orthopedic problems.
This lightweight pet carrier comes in a variety of colors, designs and sizes. It is washable, hand or machine, in cold water using soap or non-bleach detergent. Manufacturer offers a limited lifetime warranty.
Feather light yet durable
Retractable privacy flaps on mesh windows and door provides ample ventilation
Adjustable 4-point padded shoulder strap & leather hand grip
Water resistant fabric
18″L x 12″W x 12″ Flexible Height, recommended for pets up to 25 pounds
For more dog bags and carriers, check out the Dogsized Dog Bags and Carriers category.