Description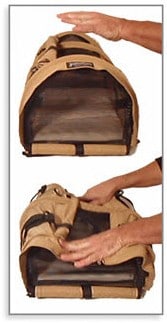 Many professional animal trainers and exhibitors who travel with dogs extensively prefer SturdiBag because it is simply the best in-cabin, light weight, flex-height pet carrier available. Whether it is used on a plane, in the car, or for carrying on foot, your pet will be comfortable and safe in a lightweight dog bag by SturdiBag. This lightweight dog bag comes in various sizes, designs and colors.
Your SturdiBag Flex-Height Pet Carrier comes with a Comfort Pad. These comfort pads make excellent pet beds for around the house as well. Covered with soft fleece, this light weight Comfort Pad is filled with a cushy, convoluted or "egg-crate" style foam that provides air circulation and superior weight distribution for support, comfort and pressure relief. The Comfort Pad may be beneficial for aging pets and/or pets with arthritic or other orthopedic problems.
Patented, award winning flex-height design!
:Durable 600 Denier Polyester
:Feather light construction
:Flexible height design "smooshes" but retains pet carrier shape.
:Adjustable 4-point padded shoulder strap & leather hand grip
:Retractable privacy flaps on all mesh windows
:Seatbelt safety straps
:Interior fleece pad secured by Velcro
:Zipper Security Clips a tether for safety and security included!
SturdiBag extra large pet carrier has been tested to safely carry a pet up to 50 pounds (22,6 kg), but is most suitable for small and some medium breed dogs up to 35 pounds (15.8 kg). Dog breeds such as Cocker Spaniel, Sheltie and Border Terrier will travel comfortably in this size carrier.
Dimensions: 20 L x 16 H x 12 W inches : 3.2 lbs || 50.5 L x 40.5 H x 30.5 W cm : 1.45 kg
For more dog bags and carriers, check out the Dogsized Dog Bags and Carriers category.