Description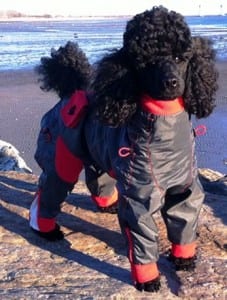 The "Zippy' dog suit has an outer shell made from a water proof fabric. This grey dog suit has an inner lining that locks in warmth, making it perfect for colder days and has protection when your dog is in the water, snow or dirt.
Features:
Urban gray and red design.
True full body adjustable fit.
Back zipper for easy dressing.
Water resistant shell (80% polyester/20% cotton).
Breathable inner lining for added warmth (100% polyester).
Patented Zippy Dynamics™ technology.
Available in medium and med/large sizes.
The Zippy Dynamics exclusive design sports a series of distinct features that give dogs a unique combination of style, comfort, and protection. The integrated adjustable cord system (ACS) gives dog owners the ability to adjust the length of the body and pant legs, making it fully protective and convenient to wear. The elastic insert system (EIS), cleverly incorporated into specific areas of the design, allows for flexibility and freedom of movement.
The suit does not compress or cause discomfort to the dog's body or fur. The main zipper on the back of the suit and zippers on each pant leg allow dog owners to easily place their dog into the suit. The true full-body design keeps the dog warm, dry, and free of dirt from the neck to the very bottom of the legs. The features that combine to provide functionality also serve to give the suit a modern, sporty, appearance.