Description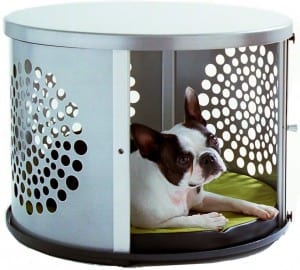 End Table Dog Crate – Modern Design by DenHaus
Style meets sanctuary with the BowHaus end table dog crate by DenHaus. Equally irresistible to comfort dogs and design owners adore. Engineered to feel safe and snug, the BowHaus appeals to your dog's instinctive desire for his or her own, cozy space. It also appeals to your desire for modern style. Meant for the home where cocktails and canines mix it up, the Bowhaus does double duty as an elegant modern end table. With its striking starburst design and sleek silhouette, the powder-coated steel BowHaus is bona fide covetable furniture designed to set tongues wagging.
Round end table dog crate with striking starburst design
Durable, easy to clean powder-coated steel
Expert ventilation
Perfect for dogs to sleep in
Lightweight and smooth
Sliding door so dogs can come and go
Easy to assemble
We know you want to give your dog the best care possible. That's why the den's smooth, easy-to-clean interior boasts a super-floppable cushion and the playful peek-a-boo holes demanded by our finicky four-legged product-testers.
Composition and Construction
Made in the USA out of steel with sliding door and starburst design. Packaged in 100% recyclable material.
Care
Clean with a soft, damp cloth. Remove smudges with a cloth that has been slightly dampened with a solution of mild soap and water; dry thoroughly. Avoid the use of harsh chemicals and abrasive cleaners.
Sizing
1) It is important to get the right size to fit your décor and your pet! Measure your dog's height and length and write it down. That's right, grab the measuring tape, a piece of paper and pencil to make sure you get the right size!
Measure height from CHIN to PAWS while dog is standing
Measure length from SHOULDERS/CHEST to REAR
2) Using your dog's height and length , compare it to the sizing chart (link below) to determine which size is right for you. Your dog needs to be able to walk in, turn around and lay down in his Den. Also, think about where the your Den will be placed in your home and the size of your furniture.
Small (15.5" H x 21" diameter ) Dog Height (paws to chin) 15" and Under , Dog Length (shoulder to rear) 20" and Under, Dog Weight – Less than 20 lbs