Description
H2O4K9 Dog Water Bottle and Travel Bowl , 25-Ounce, Treefrog Green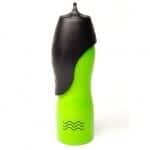 Give your dog water wherever you go with H2O4K9, where the lid is the bowl. Perfect for walks, day hikes, the park, beaches, training, search and rescue, vacations, road trips, etc. It's a simple, durable, stylish, screw-top bottle and lid made from high quality. H2O4K9 products are designed for rugged use and years of re-use. H2O4K9 Bottles fit standard cup holders, backpacks and bike bottle holders.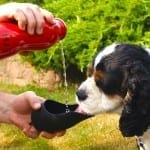 Using H2O4K9 Bottles eliminates the need to carry and dispose of plastic water bottles. H2O4K9 Bottles are made from stainless steel which is 100% recyclable. Its lid is also recyclable and will not release BPA or phthalates. There are no hinges or complex parts that can break or rust. Now your dogs can stay hydrated at work and play, while reducing risk of waterborne illness by providing them with clean safe water everywhere you go.
Comes in a variety of colors.