Description
Dog Sofa by Enchanted Home
Enchanted Home Pet Ultra Plush Snuggle Dog Soft / Bed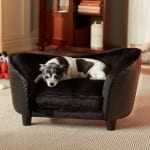 This is a designer dog bed made for discerning pet owners who want to provide only the very best to their pampered pet. If your dog likes to curl up in a ball, then Ultra Plush Snuggle Dog Bed will provide your dog with the support they need; keeping them feeling safe and secure.
This furniture quality dog sofa is accented with faux leather and is lined with a plush micro-velvet blend fabric. Wooden feet keep the bed elevated and off the ground and away from drafts. A stitched on back pocket provides storage for your dog's toys and necessities. It comes in a variety of styles and colors.
For those who want the very best for their pet, the SNOOzZzONE Pet Comfort System is a luxurious layering system that allows you to enhance the comfort of your pet's bed through the use of interchangeable layers. Select from the customized specialized layers to create a blend of indulgent but functional comfort that best fits your dog's needs.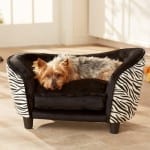 The Dog Sofa System Features:
Self-Warming Thermal Reflective Layer – Reflective technology helps preserve your pet's temperature by reflecting the warmth his or her body generates
Gel Core Comfort Layer – The gel-core science provides your pet with superior pressure distribution for a more comfortable and cooler sleep
Memory Foam Comfort Layer* – Memory foam conforms to your pet's body position to provide ultimate support when snoozing
Allergen, Microbe, Dust Mite, Protective Liner* – The cushion liner protects your pet and his or her bed from water penetration, mold, dust mites, bed bugs, allergens, microbes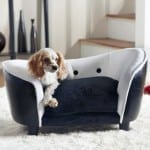 How it Works:
Simply unzip the cushion cover and insert desired layer into pocket
Furniture grade quality for long lasting durability
The inner cushion cover is a heavy weight, non-woven polyester blend with a built-in pocket for use with the exclusive SNOOzZzO Ultra Plush Pet Bed featuring SNOOzZzONE Pet Comfort System
Storage for toys and bones
Removable/washable cushion cover
Elevated draft free sleeping
Full loft cushion