Description
Dog Bag by PetEgo – Boby Bag Airline Pet Carrier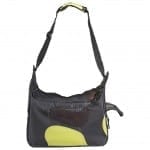 Some of the necessary requirements for a dog bag are comfort, safety and security. It doesn't hurt if it also looks fashionable and stylish too. A dog bag can be used to take your beloved dog or pet with you as you do your daily shopping or to travel further and is a must have item.
The Dog Bag by PetEgo, also known as the Boby Bag Airline Pet Carrier is a fun and funky dog bag designed by top Italian designer Emanuele Bianchi. It features contrasting colors which mingles style with fun, a pet fashionista would be proud to be seen with this bag. We own this bag and have used it to take our dog, Kobi, all around town and he loves it!
As an airline approved dog bag carrier it fits comfortably under the airline seats and has the high EGR standards for safety, comfort and design. It is designed to be carried on the shoulder and features an adjustable shoulder strap with an integral comfort pad. Mesh air vents allow a plentiful supply of fresh air and a flap can be unzipped at the side to let your dog get a good view of the passing scenery. This bag is lightweight and very easy to clean and has a convenient inside pocket to keep your wallet or other travel essentials.
This beautiful dog bag by PetEgo is available in two fun, modern fashionable color combinations; choose from either black and olive or cream and olive. It's suitable for small dogs and the dimensions are 16 x 8 x 10 inches.
For more dog bags and carriers, check out the Dogsized Dog Bags and Carriers category.