Description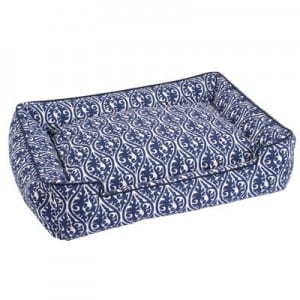 Jax and Bones Waverlee Blue Lounge Dog Bed
The Waverlee Blue Lounge Dog Bed is a perfect bed for any time of year. Made with light to medium weight fabrics, the bed breaths, making it a comfortable sleeping spot. It is soft, so your best friend will enjoy curling up and drifting off in it. Since it is durable and easy to maintain and clean, this bed will be a favorite for years to come.
Features: Great for dogs of all sizes
Light to medium weight fabric
Fun, vibrant pattern
Soft and comfortable
Made in the USA
Item Specifications:
Color: Waverlee Blue
Sizes: Small: dogs up to 15lbs (24″L x 18″W x 7″H) Medium: dogs up to 45lbs (32″L x 27″W x 10″H) Large: dogs up to 75lbs (39″L x 32″W x 10″H) XLarge: dogs up to 110lbs (48″L x 40″W x 12″H)
Care Instructions: Machine wash, low heat tumble dry.