Description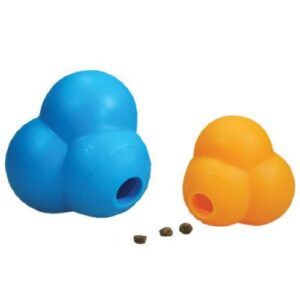 For healthy exercise and play, get the Atomic Treat Ball and Dog Toy for your dog!
Are you interested in purchasing a toy for your furry little friend, but want to get something that guarantees healthy play and exercise? Are you worried about your dog's health and want to get him a toy that would help him exercise while having fun during play time? Well, then the Atomic Treat Ball and Dog Toy is just what you need!
Through the Atomic Treat Ball and Dog Toy, you would actually be able to stimulate your furry friends' physical and mental alertness. The best part is that this toy is actually a food and treat dispensing ball, so your dog is guaranteed to have all the fun in the world, along with a full tummy while playing with it. The best part about it is that unlike other treat dispensing toys, it doesn't roll around continuously, so there isn't a thing for you to worry about in terms of the toy spilling food everywhere. Instead, the Atomic Treat Ball and Dog Toy remains stationary till the time that your furry friend tips it over again!
Available in assorted colors, the Atomic Treat Ball and Dog Toy is just what you need to reward your pet. Put in a few treats or snacks, and allow for your dog to play around with the toy – he will be luxuriously rewarded with the yummy treats that you've put in while playing with it. Moreover, with the curiosity of getting those treats out, our dog's mental and physical alertness is sure going to get a massive boost. Also, if you are worried that the material of the Atomic Treat Ball and Dog Toy might harm your friendly pet, then throw all your worries away for this amazing toy is made out of safe, and durable thermoplastic rubber. Comes in various sizes: e.g. 3-Inch and 5-Inch