Summer weather is here and it's important to keep your pet hydrated with a dog water bottle or traveling water bowl. Cupping your hands to make a water bowl for your dog isn't easy and you usually end up wasting a lot of water. So we've put together a few of our favorite dog water bottles/traveling water bowls for you to check out.
We love the Popware H-DuO with collapsible travel bowl. The bottle has two 12-ounce watertight chambers so you can hold two different drinks simultaneously. Or if you prefer, put water on one side and small doggie treats (or food) on the other. The H-DuO is made of BPA-free material. The 8oz collapsible travel bowl clips onto the bottle, which makes it ideal to travel with your best friend.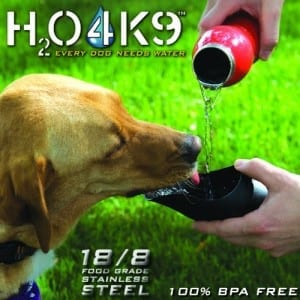 If you're looking for a dog water bottle which is high tech and modern, check out the H2O4K9 Stainless Steel K9 Water Bottle. It's designed so that the lid is the bowl. Your dog also gets his own bottle of water if you're not into sharing your own. H2O4K9 products are designed for rugged use and years of re-use.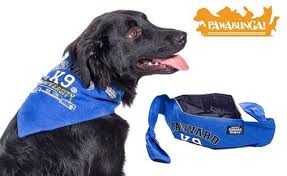 The Bandana Bowl by Pawabunda is a scarf (aka bandana) and bowl in one. Your dog can wear this bandana and when it's time for a drink, take it off and it turns into a bowl. The bowl is water proof! We've tested this ourselves and it really doesn't leak! If you think your dog is really hot, you can also pour water on the bandana & put it back on around his neck to keep your dog cool.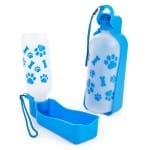 The Top Paw Travel Water Bottle is part bottle and part bowl. Remove the bottle from the holder and snap it into the upright position. Squeeze the bottle gently to start water flow. Place the bowl on the ground or hold it in your hand and allow your dog to drink. It also has a strap so it's easy to tether for hanging from bike, wrist, stroller, backpack or just put on your wrist.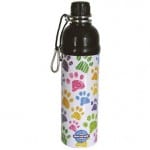 The Good Life Gear Stainless Steel Pet Water Bottle offers a unique bottle design. The stainless-steel water bottle has two openings: the small one up top has a ball-bearing to control water flow when you hold the bottle upside-down for your dog to drink (think hamster water bottle). The second opening is larger to allow for filling and cleaning. You can also un-screw the whole top of the bottle, flip it over – and it's a cup. It's an easy and simple way to keep your dog hydrated while traveling, running or hiking with you.
You can always check out our shop category "Feeding & Watering" for more options and please let us know if you find any other cool dog products we should post about!